---
You probably eat your corn on the cob the way most Americans do: you bare your teeth and bite into the row with your cat on your shoulder.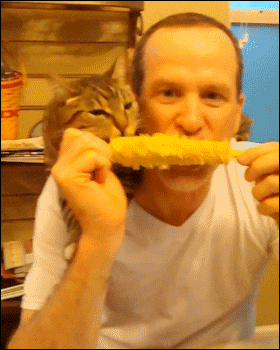 Cat is optional.
---
But Japanese Twitter user @alovesun went viral this week when he tweeted about a new, exciting way to eat the vegetable/grain/fruit:
北海道移住して一番驚いたのはとうもろこしのこの食べ方でした。 pic.twitter.com/1iqn8EhMbD

— アラブ三郎 (@alovesun) June 25, 2017
Translation: "The thing that shocked me the most after moving to Hokkaido was how they eat corn."
---
Buzzfeed even shared a video about it:
---
Your corn cob will end up looking like this:
---
Some on Twitter weren't convinced.
I don't trust anyone who doesn't gnaw their corn cobs like a zombie with a fresh forearm

— Justin Wright (@JustinJWright22) July 19, 2017
These life hacks seem like more work. How is that easier than just picking it up and bitting

— Lachandra Jordan (@SondraBrena) July 20, 2017
Others offered alternate methods.
This is how I eat my corn only I use my teeth so it goes straight into my mouth without unnecessary extra handling.

— Buyu (@Buyu) July 19, 2017
Just use a knife lol faster and you don't need to wait for the corn to cool

— Mohit Whabi (@mohitwhabi) July 19, 2017
But this Twitter user was mighty impressed.
Your corn technic is very strong. Props…

— Charles DeArmon (@BadChizzle) June 26, 2017
---
And so are we! Let's raise a cob to no more corn in our teeth!
Please SHARE this with your friends and family.
Justin Luke is a contributor at SBLY Media.